The 2013 Subaru BRZ is a pure sports car introduced to rave reviews this year. It's the first rear wheel drive in the Subaru line, break from the traditional Symmetrical All Wheel Drive from the Subaru lineup. It has been one of our fastest-selling vehicles across the dealership, and it's easy to see why. With cutting edge style, 200 hp Boxer engine, choice of transmission, and a trophy case full of awards, it's easy to see why this is one of the top selling sports cars already.
So what makes the Subaru BRZ so great? Subaru developed the rear-wheel drive BRZ with the fundamentals of sports car design in mind: low vehicle weight, an ultra-low center of gravity and precision steering. Utilizing Subaru's new naturally aspirated 200 horsepower horizontally opposed (BOXER) engine design, the BRZ is a sports car that does not sacrifice everyday comfort and practicality.
VIDEO WALKAROUND: 2013 SUBARU BRZ
Vehicle Brochures
The Subaru BRZ was named one of Ward Auto's "10 Best Engines"
"The BRZ engine delivers luscious mid-range torque, loves to rev hard and sounds tremendous, while being sedate at idle. And it's efficient — we hammered the BRZ and still managed nearly 29 mpg," said Tom Murphy, executive editor at Ward's. "It's hard to do a small naturally aspirated engine that makes your palms sweat, but the BRZ succeeds. And it can be had for about $25,000, well equipped."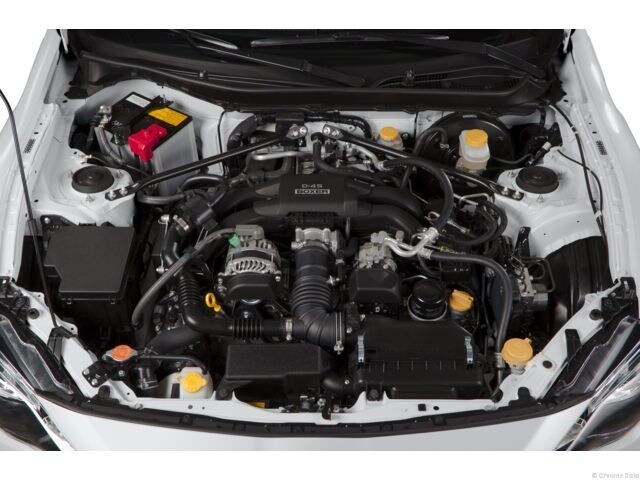 The BRZ is focused on a light, low center of gravity. Subaru used high tensile steel and placed the engine further behind the front axle, which helps improve the front to rear balance.
The BRZ weighs just 2,762 pounds. This light weight allows for improved, focused handling
Transmission options include a 6-speed manual transmission or automatic transmission with paddle shifters.
One of our test drivers is a taller guy, and the first time he saw it, his first thought was "I'd never be able to fit in their." But then when he climb in, he looked around, noticed he could fit and was very comfortable behind the wheel.
SO WHICH BRZ FITS YOU?
The Subaru BRZ has two trim options, Premium or Limited.
Premium comes with the 200-hp engine, 6-speed manual, 17 inch rims, and cloth seats. The Limited edition adds fog lights, rear spoiler, leather seats, heated seats and mirrors, and a security system.
All BRZ models come with Navigation.
AND IT"S SAFE
The BRZ was named an IIHS Top SafetyPick. The BRZ earned top marks for frontal-, side- and rear-crash safety as well as roof strength.
High-strength front seat frames provide enhanced protection against whiplash injury in a rear-end collision. The LATCH system (Lower Anchors and Tethers for CHildren) enables specially equipped child seats to be secured in the rear seat.
The Subaru Advanced Frontal Airbag System employs dual-stage-deployment driver and front passenger air bags. Deployment strength depends on how close the driver is to the steering wheel, and whether there is a child or adult sitting in the passenger seat. Front seat side pelvis/torso air bags and side curtain air bags offer additional head protection for front and rear occupants.
The five-mode driver-selectable Vehicle Stability Control (VSC) system and traction control system allows the driver the tailor the system to conditions and performance needs; stability and traction control can be disengaged for track driving events, for example.
The standard 4-channel / 4-sensor Anti-lock Brake System (ABS) incorporates Electronic Brake-force Distribution (EBD), Brake Assist and Brake Override. The EBD system enhances braking performance and stability by actively optimizing braking force between the front and rear wheels according to how the vehicle is loaded with passengers and cargo.
Brake Assist detects how quickly the driver has pressed the pedal in emergency or "panic" braking. If pedal velocity exceeds a certain threshold, Brake Assist immediately applies pressure up to the ABS limit to help increase braking effectiveness. The Brake Override system ensures that the engine power will be cut when the brake pedal and accelerator are pressed simultaneously.
The 2013 Subaru BRZ even comes in 7 exterior colors!
Subaru BRZ models leave Waikem Subaru as soon as they arrive. Visit Waikem Subaru or get a quote today and we'll put you in the ultimate sports car.
2013 SUBARU BRZ AT THE CLEVELAND AUTO SHOW
http://youtu.be/76zazXLjXIw
2013 SUBARU BRZ CRASH TEST